It's RRSP season and soon to be tax time as well. RRSP.  The deadline for making a contribution to your RRSP which can be applied to your 2019 tax return is Monday, March 2, 2020.
You can top up your RRSP either by mailing in a cheque or through your online banking. Go to www.ceirp.ca for more information.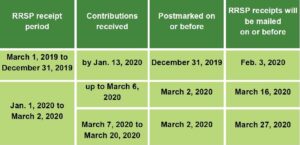 *Registered retirement savings plan (RRSP) receipts are available on GRS Access, typically within one to two days of the Contributions received deadline shown above.
**Postmarks are monitored following the end of each RRSP receipt period up to and including the Contributions received dates indicated. For contributions sent by courier (including overnight), the courier company's mailing date (date sent) will be used instead of the postmarked date.